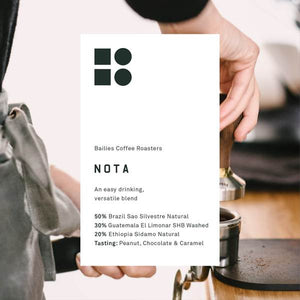 Bailies Nota 250g

Roasted for espresso: Roasted to our espresso profile and best suited to espresso or traditional filter brewing, working well with or without milk.

An easy drinking, versatile blend.
Roasted peanut balanced with milk chocolate notes and a soft caramel sweetness makes Nota an easy-drinking espresso. It's great on its own in a shot – quite sweet and full but without bitterness.

It is fantastic with milk in a latte, cappuccino or flat white.

This is a real crowd-pleaser.